I used to be quite the blogger, but I feel as though my life is uninteresting and so I would blog about my ideas, but then I think I ran out of those so hence the no blogs lol. Life has been going absolutely amazing lately. Peter and I have been married for 9 months now and things couldn't be better. If I had found the right person I would/should have done this ages ago! :) Work is keeping me busy as can be as always. I am getting more and more patients and yet no help. They are hoping to have our medicare up and running by the end of the year and with that will bring an LVN and an RN so I am just not so patiently waiting until then. Peter just started another semester of school. He is only taking one class this time around because he only has 2 left before he can apply to nursing school and one is contingent upon the other. Its anatomy and physiology 2 so it requires a lab, and since he really needs to get an A in it, in order to better his chances at getting into the very difficult nursing program he is not working and just concentrating on that.
I finally turned in my Acura that has been sitting in my garage since January due to the fact that its a lease and I exceeded my 45,000 miles all the way back then. So I finally turned it in 2 weeks ago and we were going to just be a one car family for a while, so I could pay off bills. But of course things never work out the way you want and Peters car decided to stop working last week. He spent his whole week off of school trying desperately to fix it in the 100 degree weather but he was finally stumped and could not get it working. He replaced about 6 different parts spending several hundred dollars and no luck. The only 2 other things was to replace the whole engine or it was a possibility it was the electrical system going bad and either way it would be a lot of money for a old car with 112,000 miles on it. So we elected to get a new used car that might be a little more reliable. I elected to get a Scion Xb because they were relatively inexpensive and more of a family car than the 2 door hatch back vehicle Peter previously owned.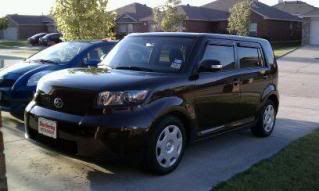 Lets see other than that, I was recently called to work in the nursery. They only called me for some reason, and have not called anyone else and since I have as many as 12 kids if they all attend, Peter has been helping me out until they get me some help. I have the older kids that are already 3 or are turning 3, which can be both good and bad. My first week was really crazy trying to handle 10 kids, but only 7 showed up this past week and one stayed with her mom after asking to go the bathroom 4 times and really just having a melt down. It was a lot more manageable.
For the most part we are just praying that it starts to cool off a little more here. These continuous days over 100 degrees is killer. We are looking forward to the fall.